| | |
| --- | --- |
| Disclaimer: I don't speak and write english very well... but i like to communicate with all the world, so i try to translate some page of my site. I hope that you can understand what i want to say and you don't dwell in my mistake!!!! | Italian version |
People who never staied to cuba think that the cuban girl is completely uninibhited and it's very easy to go with her if you are a tourist. Some people gift me condom befote my departure!!! I think that this derived from 3 factor:


- classic italian man make one and tell to friends 10, but the friends tell to other friends 20, and that people tell to their friends 30.....


- maybe in Cuba... but in the past...


- in all the world is the same... also here in italy if you pay a girl you can recive something!!!!


Read the report of the other my trip!
Another myth: "cuban girls are beautiful". i don't think it!!!!!!!!!!! Maybe something she has a nice body... but her face.... i don't like!! It's possible to find some very nice girls... but the average, in my opinion, is not good... 100 time better the italian girls!!!!!


Another myth: "all the cuban girls are very avalaible"... it's true! If you pay it's true!! People in cuba say that 90% (but my friend Michele suspicious that is 100%) of woman make the most ancient job of the world; woman are very explicit to communicate you this! Sometimes can happen to walk inside the city of Havana and to find a cuople of cuban boys... when the couple see the tourist the boy propose to the tourist his girl....

In cuba there's the embargo, cuban can't go outside Cuba, internet is not allowed to cuban, the government television doesn't transmit documentar of Venice.... i thought that cuban are atract from the tourist, like myself is attract from cuban, because we have different culture, different way to live... nonono... they are interested only at money! How do you live, how is italy, why in venice there are the boat and not the car, to tell you how is the dictatorship, how a cuban live in Cuba.... they are NOT interested about it... if they want to know something about venice... 100 other tourist tell them it... so the only interest thing that you have is money...

then there are other problem between a tourist and a cuban girl...
- the law... police is very strict towards cuban and doesn't tolerate so much cuban girls that stay with tourist (dictatorship fear that tourist tell to cuban how is the life outside the island). Tourist (if the girl is over 18) can't have problem, but for cuban can be problem. So they prefer to stay without tourist when they are outside (in cuba, expecially in Havana police is EVERYWHERE). I ask to the girl in the first story if she can has problem to stay near me in the street and she answer me "no, but if police ask you something it's better that you say that i'm your girlfriend". Another girl say me "don't speak!" because in the corner there was police (i think that anyone can notice that i'm not a cuban.. only watching me.. so whay it was better for her if i didn't speak?????)

- logistics/law... if you find a girl (it doesn't mean if you pay or not) and you want what you pay for... where you can go?? Their law say that she can't enter in a hotel and you can't go in her house... there are the "case particular" but in all where we staied the owner said us that was ABSOLUTELY forbitted to enter in the house with a cuban. To Havana the owner sleep on the door in the night (!) to see if we enter alone (!!!). So... i think that or you rent a car or you know someone who make something illegal for you.
- ethics/moral....: i never pay in my life a woman... i never stay with a prostitute in my life... i'm not able to find the reason why i must begin when i'm spending my holiday....

Some examples:

first time in Varadero... first day in varadero... hotel, shower, dinner, we dress ourself, we exit from the hotel and...... nothing! Like desert! There are 2 girls that is walking... so i go to there to ask where we can find a place to stay in the night. I'm near the girl and one continue to walk, the other stop. The fist say to the second "what are you doing? Come on! There are the police there!!!" mah.....

The first day to the Havana we walk a lot and no one (girl) came to us, so it's not true that "all the girl go to the tourist".... there was a lot of man that came to us to sell us everything (included woman!!!). In the evening we went in a place where we saw a little bit of people (a bar near malecon). We enter and we order to drink. With the glass we went in a empty table, but 3 girls invite us to sit with her why refuse???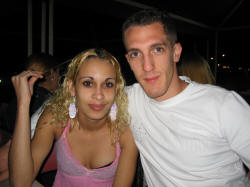 So we enter in contact for the first time with cuban girls! When we sit, immediatly they say that we must give something to them (??), drink, cigarettes... we didn't accept, but immediatly we understand that there was something strong...
Girl: do you offer me a cigarettes?
Michele: i don't smoke!
Girl: so... buy me a packet!!!!
Michele+Borto: =:OOOOO
Girl: but.... don't you pay something to a girl when you exit with her???
Michele+Borto: O_o'''''''''''' but.... but.... where we are?!?!??!?

Ok,, so we try to do a "normal" conversation with this girl, but she wants only money, smoke or alcool... we are confused about the situation and while we are speaking about it a cuban man begin to speak with us. As usual cuban man, propose us drug, cigar and... woman!! He asks us if we want a girl, which kind of girl we like... then he calls a girl, she cames and firs ask us "Do you want to make love with me?"
:O
Virtually this man get customer to the girl and (probably) recive "tip" from girl that came with you ONLY for your money...!!!!

Ok, we went in a place full of prostitute... take note about it and never come back!!!

Ok, other day... we are in a taxi... the crosslight is red and the taxi driver stops. Neare us, on the bus stop there are 2 nice girl. They watch us and i ask if they need to go in our direction. They go in that direction so i ask to the driver if is possible to take in the car the girls. The driver say yes!

The girls thank us
Girl: how many days are you here in cuba?
Borto: it's our second days!
Girl: and with how many girlsdo you stay?
Borto: umh... bhe.. no one...
Girl: hihi
Borto: and you, with how many touris do yoou stay this year???
Girl: 1,2,3,4,5...8..10...20..30... i don't remember, too much!!
Borto: O_o
Girl: but why you doon't stay with a girl???
Borto: every girl that we know wants money...
afer 100 meters the girl go out from taxi :|

ok, we understand how things work in Cuba... but why we meet only prostitute??? Where is the "normal" cuban girls??????????

Sometimes in the life happens what you don't think....
we are in the chinese districts to eat. We are finishing when enter 2 girl and begin to eat in the table near us... one of this is nice, but i notice that her dress is like "european" dress and not like cuban... and immediatly i think that maybr they can be two......

Borto: Michele, do you want to know this girls?
Michele: Good idea!!! So after you need to pay her dinner!
Borto: okok... we go away before they finish!
Michele: nono...

but one glance... one word... and we are in the table with the girls. We make a general discusison and after we speak about prostitution in cuba and they explain us that what we understand is true, but they are not like the other 90% of cuban girls that go with touris for money and they dress like europen because they like it and not for other reason. The girls appear sincere and so we can have a "normal" discussion. They pay her bill and we spend other time in the restaurant... we speak and pass a man who sell pelouches. One of the girls like a lot one of that, she asks the price, 15 cuc (like 15 dollar), too much for her, so the man say that she can take the pelouches and me or Michele pay; the girl don't see us and answer that it's impossible because we are only friends and we are not her boyfriends.
Ohhh.. a miracle!! The girl look like sincere, Maria lokk like an interesting girl to know and so we decide to stay with this girl in this night.
They bring us to a place that cost 10cuc to enter per people. We have our 20 but they no, and we have not 40cuc in our pocket (here i dislike the fact that they don't ask us nothing and think that we pay for them... but ok... we are in cuba....)
So we go in another place, i don't know why we don't pay the entrance, and to drink is very cheap! The palce is similar to an european place, except the kind of music. Maria in the bag has a cellphoe, and it's difficult to see a cuban with a cellphone... it cost a lot for them. Maria say that she live near the place. we stay there in the morning and the zone is like a residential zone, with nice house...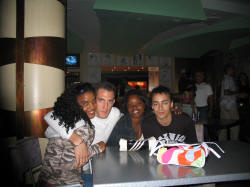 Maria is a nice girl, it' funny and interesting.... i don't know how to describe... but something make her particular... and inside i feel something that transport me to know better her....
| | | | | | | |
| --- | --- | --- | --- | --- | --- | --- |
| | Home Page Cuba | | | | Italian version | |