| | |
| --- | --- |
| What can i say about russian girls? They are about like i image latvian girls... that is pretty girls, not snob, friendly... (but... latvian girls are not snob... they are ****a little bit**** prevent with tourist....). In Russia there are not a lot of man that go there for tourism (sexual and not), so.... :))) | |
Russian woman's beauty is unquestionable, but in my opinion it's not paragonable to beauty of baltic republic girls (however thay have a strong russian influence!)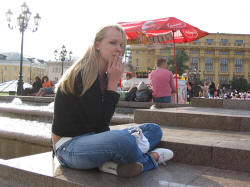 | | |
| --- | --- |
| It's sincerly wonderful to say that i'm italian and to see girls who smile... they (weirdly) have a good opinion of italian! In Latvia as you say that you are italian, they are so unhappy... maybe because in latvia a lot of italian (and not only italian....) in their living zone have not courage to see a girl in the eyes and when they go to spend holiday in east europe tdo the worst avances because they think that girls are all "easy".... :////// Maybe in Russia there was not this kind of "barbaric invasion" and maybe local media speak good about Italy... Well!!!! | Latvia (Riga) trip |
Girls are usually inclined to dialog, maybe because they are attract from foreinger, and sometimes happen that she invites you somewhere to speak, to meet... even one girl insist to offer me a lunch...!! A very important thing for me in a holiday in another country is both to know new people and especially to know different national costume, different kid of life, different habits... who can speak about better than a people who live there???
An important thin... you must not confuse the "friendly" girls... it doesn't mean "easy"!!!!! If they ask you to take an aperitif, to walk... it mean to take an aperitif or to walk... not "i want to have sex with you tonight..."!!!
The main big problem is that often russian people don't speak english... and this, obviously, cause a lot of problem in communication...
The girl in the photo below is the only one in this holiday that i speak for a very short time... she doesn't speak english (strange...!), i'm near the fountain and i want a picture with me and the fountain.. i see a couple of girls and i ask to a girl if she can do the photo... but her friend insist to stay with me on the photo...! And after this they thank me.... neither i sign an autograph..!!!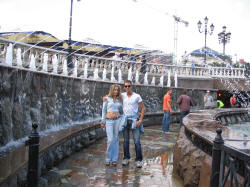 unfortunately, for different strange reason, the meeting between me and the local people don't uphold more than a day.. till my eyes cross the one of this blonde beauty....
Thank to her i understand a lot of thing about russian culture....