Disclaimer: I don't speak and write english very well... but i like to communicate with all the world, so i try to translate some page of my site. I hope that you can understand what i want to say and you don't dwell in my mistake!!!!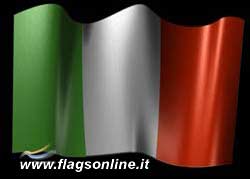 Italian version
It's fault of time zone, or it's fault of the desire to vistit Cuba, or it's fault of the impressionant noise on the street??? I don't know, but at 8 o clock in the morning we see this in the window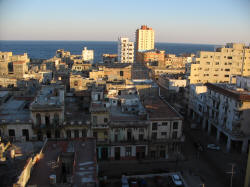 i don't know if you realize, but it's all very old building... ok we are in a poor country... breakfast in the othel and then we exit to discover this place!!! With a map we try to go in someintresting place that is signed in the guide. After 5 minutes a kindly cuban notice that we look too much the maps and ask us if we need help. I say thay i need to go in a place and i sign it in the map. He tells me that alla that zone is closed because the president of Cile is there. So he bring us to another place and begin to speak about Cuba. Wonderful!!! So it's true that cuban people are very kindly!!! After he brings us to the china district zone (but... chines people???? also here????)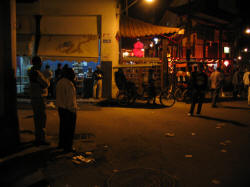 we enter in a bar and we take 3 mojitos...:The bill say 12cuc (like 12 dollar) but... was not cuba a cheap place???????? It cost like in Italy!! But i begin to understand something... the cuban tell us that in cuba there are 2 kind of money: the MN (moneda nacional, national money) and the CUC (peso convertible) 1 cuc is like a dollar, the value of MN is half cuc. But in the guide is write that 1cuc=24MN.... mhmhmm ok... i say "yes" to the cuban... i don't know how he speak with me about this 2 different money... i pay also the mojito of the cubban (that doesn't thank us!) and cuban bring us to a place where a man sell vegetables and say us that there is possible to change money very well, but minimum is 200e and with 200e is possible to have 400MN.. but if i follow my guide 400/24=33euro, not 200!!! he wants to stole us money!!!! I thank the cuban, and i say him that i will be there in the afternoon, now i don't have with me 200e. After this cuban bring us to a casa particular (private house) (because we need a room). The cuban of the hose tell us that cost 30cuc for night 1 room, but all room are busy and to make reservation we need to pay immediatly. He doesn't want to show us the room because are busy.... oh my god... after he bring us in a place where is possible to buy cheap cigar. we enter in a private house and when we enter cuban man close the door with a key. I don't want to buy nothing because in my opinion that man is not an honest man! But the man insist a lot and Michele give up a little bit... so we buy some "montecristo". Now we are free!!! Without that man!! And we buy a box of cigar that we don't now if is original and we pay it a (very) little bit less that in a official shop. This is the first and the last thing that a cuban be successful to sell us.
It's impressionant the organization of Cuban to defraud tourist! In the city of Havana live 2.5 million of people and a lot of them are in a organization, and it work well!!! Anyone know anyone... For example: late in the afternoon one Cuban stop us and tell "that man (the 2438409th who stop us to sell something) want to defraud you!" "Yes, we know" i answer, and this man begin to be friendly with us, begin to tell us that a lot of cuban want to defraud tourist, to give attention with money change, and pay attention to cuban that want to b ring us in restaurant or case particular; because they want commission... he lokks like a real friend!!! Then when we pass in front of the bar where we take mojito with the firs cuban, this man say that we must pay attention to that place, because cuban bring touris there and then the bill is very high... mh... in my opinion this man know too much things... when we try to give us confidence and we
speak to him about the cigar he tries to sell us a thing that cost 25cuc to pass the customs in
the airport... incredible! However during our holiday we find some "good" cuban, but i will
speak about it later! Ok, i close the discusison about cuban with this discusisson and i don't
write about the hours that we lost to eat, to the other 100 method that they use to have
money... i will speak of other discussion!!!

When you walk in the city is like 40 years old, nothing induce you to think to be in 2005... there are a lot of difference respect our street! It's interesting to notice how is possible to see very nice building adn after 10 meters another building that is decadent. See this photo the beautiful building on the right and the building on the left without windows!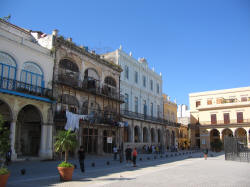 boys who play in a normal cuban street
other cuban street:
I think that this photo isn't enough to explain the atmosphere in cuba... but it will help you to feel it! It's curious to see people who repair cars on the street with everything they own: tape, hummer, string... as you can see the cuban cars are very old american cars and lada, that is like italian fiat 124/125/126 with russian brand. It's also curios notice how is very difficult to see a shop on the street...
The city of Havana offer very beautiful scenary like "malecon", the big street that skirt the sea
When we end the night that we reserved in the hotel Lincoln we go in a casa particular of mrs Aurora who wants 28cuc per night. We find this house in a touristc guide (i buy it in italy!!!!), if i follow the cuban man on the street i don't want to image where i sleep!!!!!!!!!!!! And a which price!!!! The room of mrs Aurora is dignified, and what i can see outside the room is very nice, expecially in the evening!!
To eat begin to be a problem, the restaurant that is signed on the guide is wonderful, like the one that is upstairs a museum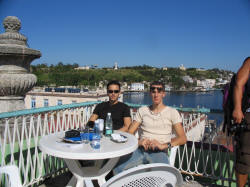 But the proce is not cheap! I realize that cuba is not cheap and the price is similar to italian price... the man of touristic agency sugest us to go to eat to the china district that offer generous portion, average quality of food and cheap price. So we go to the "barrio cino" (china disctrict) and we acsertine that it offer somedisgusting thing at acceptable price!
In this restaurant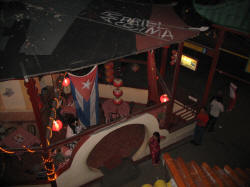 i know Oliver, a cuban waiter that ask me if i follow Formula 1... after this question we spend half hour to speak about this sport. He knows a LOT of thing about formula 1, driver, team, gran prix...!!! then i tell him that i drive a go-kart and he asks me about the engine, the tyre... uao! He has a VERY good passion for the 4 wheels!!! The incredible thing is that in cuba the television doesn't transmit the grand prix of F1, the newspapers don't write about it, cuban people don't have internet and i believe that 99.9% of cuban don't know what is a go-kart. How Oliver can know all this thing???? He has some friend in europe and when this friends go to Cuba give him the tape with registration of grand prix or the page of newspaper about F1. Oliver want my address... i'm waiting mail!! I have with me 2 photo of my last work (I worked in Ferrari team) and i tell him that in 2 days i will return in that restaurant to show it to him and he ask me if i want to go in his house to make a challenge with playstation and a F1 game...!
Walking for Havana there are some litte market where cuban sell some thing of local craftsmanship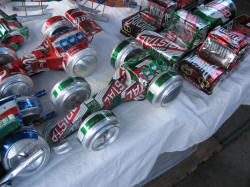 If you will go in Cuba in every city there are at least one. When we enter we see a zone where people sell picture. I notice that some of this are very beautiful... if i can i will buy a lot of this!!!!!
My attention is abduct from this picture: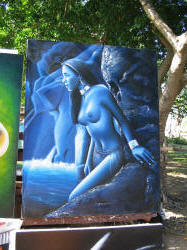 I love it and i give to the painter a lot of compliments, but this man want 100cuc for the canvas... it can be a real value... but i don't want to spend 100 cuc, i plain to spend not a lot of money in cuba and i don't have a lot of money with me and we are only at the beginning of our holiday... but i like it so much!!! So i rememer when i was a little merchant in a little market in my city and i beginn to contract the price!! After a very long negotiation i buy the picture for 42cuc, my Dolce & Gabbana belt (not original!)! The man offer me also 100cuc for my sunglasses, but my ray-ban is original... :)))
Me and Michele come back in the little market with money and.... i like so much thing...!!!! So i come back home with 6 picture! After this i think about possible problem in the airport customs... soo i begin to take information about it, but i recive very confused information and clearly a lot of people that want money to give me wrong suggestion.... ah...!! Do you want to know how i solve the problem? I tell you later....
I begin to speak of cuban woman... this argument deserve an indipendent page... mhmh... after i wiull write a page about cuban girls! But now i anticipate you that here there is not preliminary, here we get down to brass tracks!!!
Ok, now i speak about monument... and i begin with the "must" of monument in Havana city... a picture that you must take if you go in cuba! The revolution square!
This is the zone near the little market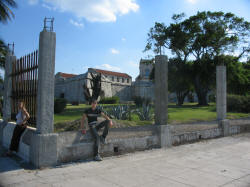 Capitolio and near there:
The cimitery near the revolution square
Nightlife in havana offer place where is possible spend nice evenings, but we don't go in no one... :( why? First day we was too tired, second day because we walk a lot but we don't find nothing of good, third we find a cuban (i will speak after about him) that entertain us a lot of time (intresting, but....), fourth because we meet with 2 girls, and the last because we need to wake up very early the morning after and Michele doesn't feel good... but... ok... no problem..! we enjoy ourself in pub, bar and long walking that permit us to see havana by night and watch intresting thing!
It's correct to spend some words about "right" cuban... We are walking for the street of Havana in Capitolio zone and i'm speaking with michele in our dialect, and a man who hear us exclaim a tipical venetian expression and ask us "are you from Venice???" O_o who is this man???????? We know Crispino, a cuban that appear like the other, but he reveal the only one real good cuban in the city of Havana that we meet! He explains us that he worked in a city near Venice (and i believe it, his accent is quite venetian! And also when he speaks he uses a lot of venetian expression), and he begin to walk with us and begin to show us some zone of havana that without him we are not able to discover. Unfortunately the battery of my digital camera end, so i don't have photo of local market, of the port and all the place that we see with Crispino thta help us to understand Cuba. I explain you that in cuba no one do nothing for nothing, so also Crispino find the method to take money from us... he brings us in a restaurant not cheap (but where we eat VERY good) and where he sais that he's followind a diet so he doesn't eat. We offer him a mojito, but for sure he takes a good commission from the restaurant... but... i think that he deserve it! He walks all the morning with us (and we walk a lot!!), he shows us a very curious thing. I hope to be able to show you the proto that take Michele as soon as possible!
One evening, after dinner, we go in the city center with a taxi-bike... but the driver bring us in a place that is not what we want (probably we don't express our destination right), but however not far from where we want to go. So we decide to go by walk, but the driver insist to go with him... ok... after 500 meters we arive at "obispo", we thank the driver that we already pay and we go in a bar... but the driver is stop from a policeman because he can't bring tourist... we are displease about it... it's our mistake to say a wrong destination and the driver offer us to bring us in the right destination and he doesn't want money for this... one cuban that make something for nothing is a miracle! So we want to help him, but how? In that moment pass there another taxi-bike, we stop him and explain the situation and ask how we can help him... the customer of the taxi-bike understand italian and understand the situation and tell us to stay calm. He go down the taxi-bike and begin to speak with other people.. and find immediatly a woman who know the policeman and will be able to corrupt him. With this man we will pass the evening, he bring us in a afro-cuban mass, he speak us about cuban religion, about the present and the past of Cuba....
In the same place where we know Crispino, last evening we know Ernesto, another cuban who worked in italy, he teachs to dance. Also him has a little venetian accent and also him tell us about Cuba and how his the life there and about his stay in Italy. He tells us that his italian girlfriend has a lot of money, he doesn't like her, but he necessity... (sexual tourism is not only in one way.....!!!!) we want to offer him drink, but he refuses... ah...!! :)
The conversation with Ernersto is the end of the last day in Havana. We plained to stay there 7 days, but the "big island" is not called big for nothing..... a lot of people speak good about Trinidad, and so we decide to go there and then go to Varadero... Varadero... ah... how may things tell us cuban about Varadero... but i will write later about Varadero, now let's go to Trinidad!
| | | | | | | |
| --- | --- | --- | --- | --- | --- | --- |
| | Home Page Cuba | | | | Italian version | |