MOTOROLA V3688 - V3690 - V50
THE DATE
Dimenson: 83x44x25

Weight: 83g
Motorola begun to sell this phone in 1999 and impose to the market a new point of reference for small phone. V3688 recieve the big inheritance of StarTAC and to conquer the market it use the same arms of StarTAC: compactly, light, non conformist design, trendy, an high price, and good technical characteristic. Besides, V3688 fix some software bug of StarTAC taht an high level phone in 1999 must not have.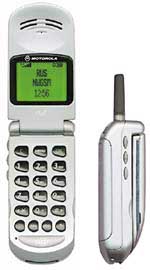 The v3688 software look like the same of StarTAC 130 (and so the same of MicroTAC 8700...) but it's fix about some bugs, and so now is possible to send an SMS and take the number from the adress book (!). The V3690 is about the same phone, there are some software feature. V50 has an internet browser (wap), vocal command, a (optional) suite to connect phone to a computer, graphic animate icons, T9 and a small memory for vocal records.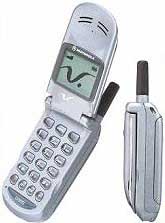 ---
The defect of V50 is the usual (for motorola) horrible user interface... it look like very old and difficult to use compared with other contemporaney phone. The flat that connect display to the phone is frail, so first there is smething wrong in the view, and then the display doesn't show nothing, only the green led. motorola don't want to pay the copyright to use T9 system, so it prefer to develop an own T9 system... but this system is not good like the usual, so sometime it don't make easy to write a sms, but it makes it hard!
---
On Motorola phone farther IMEI code (it's a standard for all GSM) we find another code write in the label under the battery: the MSN code.
It's a 10 numbers code where:
-123: indicate the cellular phone model
-4: indicate the origin code, where the phone was made
-56: year and month of final assembly
-789 and 10: serial number
Year

Month

Final assembly place

code
Year
code
month
code
place
H
1983
A/B
01
R
Uk
J
1984
C/D
02
2
Germany
K
1985
E/F
03
L
1986
G/H
04
M
1987
J/K
05
N
1988
L/M
06
P
1989
N/P
07
Q
1990
Q/R
08
R
1991
S/T
09
S
1992
U/V
10
T
1993
W/X
11
U
1994
Y/Z
12
V
1995
W
1996
X
1997
Y
1998
Z
1999